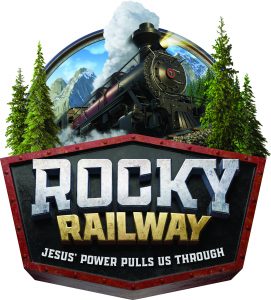 In July 2021, 23 children boarded the Rocky Railway and had a powerful adventure!  During the week, they played with some cool Gizmos. They learned that Jesus' power can help us do hard things, be bold, live forever, be good friends and give us hope.  They ate an assortment of snacks and played some fun and wet games.  They watched for God and shared their God sightings.
The children were asked to bring in an item for donation and change every night.
These generous children brought in 501 items for the Whitehall Food Bank.  They also raised over $180 in loose change.  This money will be sent to Operation Kid to Kid, who will distribute it provide alp0acas for families in Ecuador.  
Check out the video recap of our week by clicking here.
We hope everyone involved had a great time and hope to see everyone again next year!
Any questions, please email sothvacationbibleschool@gmail.com.