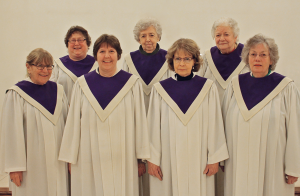 Due to the pandemic, all singing has been temporarily suspended.  Choir and handbell rehearsals will resume when the CDC allows singing in churches again.  
The choir is always looking for new members, especially men.  And our handbell ensemble is in desperate need of bell ringers.  No experience is required!  If you are interested, please talk to Marjory after any service.  
The music ministry of Shepherd of the Hills Lutheran Church enhances worship with a Chancel Choir and a small Handbell Ensemble in addition to the largest body of singers which is that of the congregation itself. The congregation distinguishes itself with a positive approach to song in worship.
The Chancel choir rehearses each Wednesday evening from 6:45 p.m. until 8 p.m. in preparation for the 10:15 a.m. Sunday worship service. Singing choral literature ranging from Johann Sebastian Bach to contemporary songs, this hard working group leads the congregation in the musical settings of the liturgy, psalms, and hymns from September through June. Always welcoming new members, the choir encourages commitment to regular attendance but also welcomes those singers who can only commit to short term holiday and festival singing.
The Sunday School choir sings approximately once a month and on special holidays. A wide range of school-age children attend this group.  Rehearsal for the Sunday School choir is at 9:00 just prior to Sunday School classes.   
The Handbell Ensemble utilizes a three-octave set of Malmark hand bells and a two- octave set of Suzuki hand chimes. This ensemble rehearses as needed, depending upon their schedule. 
The church organ was originally a two-manual Austin pipe organ with thirteen ranks of pipes. Installed when the church was built in the early 1970s, it served the church well. In September of 2008, this pipe organ was combined with a digital Allen Quantum 325C. The 50-stop, three-manual console contains various suites of tonal colors.  Along with MIDI capabilities, the organ also has an antiphonal organ in the back of the church.